Online EPUB3 Reader
Helicon Books online reader is an epub reader provides an online reading solution for online book stores, ecommerce sites, online magazines, portals, and more. Any publisher, author, or business who wish to enable online reading in order to increase its audience, gain more traffic, or sell ebooks can use this product. The online reader can be connected to any site or store or can be combined as part of Helicon Books EPUB Store.
Click here for the Online Reader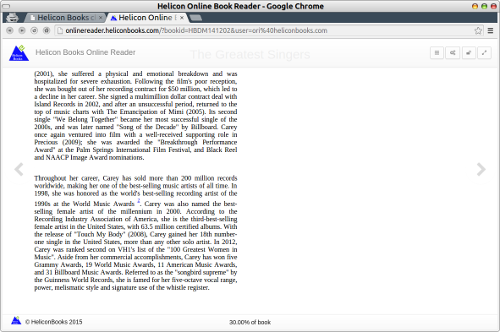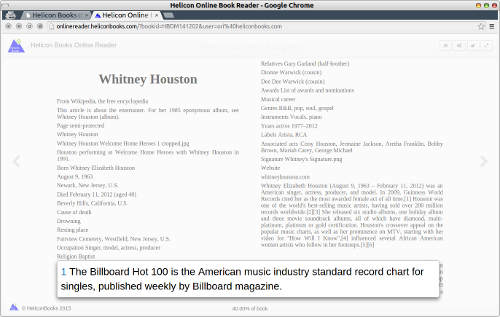 There are two types of online readers in the market:
- Per book online reader – in this case you have to give a graphic designer the book (in most cases in pdf). The graphic designer will create a mini website for each book . This option is more expensive and inflexible and generaly used for online catalogs but not recommended for ebooks. This reader is usually a fixed layout reader and doesn't fit pages to screen size and font size.
- Online readers which are part of libraries – these online readers are inflexible and expensive.
Helicon Books online reader is flexible and can be used for all EPUB ebooks. You don't have to create a mini website for each book. The reader automatically repaginates and fits the page size according to screen size. You can purchase it as an independent product and connect it to any site or store.
Unique Functions of the reader:
Reading part of an ebook in order to display preview.
Building a library with reading limitation such as limited time frame and number of books.
Present footnotes
Show reading position in percentage
Enables changing line spacing, background color and font size